MG Petit Restaurant
Brand:
Mother Garden
Product Code:
Petit Restaurant
Reward Points:
0
Availability:
In Stock
Price: s$78.00

MG Petit Restaurant
Does your child dream of becoming a chef in a restaurant? This Mother Garden Petit Restaurant comes with realistic food, serving plates, knives, forks and even a menu for realistic restaurant play time.
This Petit Restaurant encourages kids to create meals for their friends and develops listening skills as their friends order their meal. The wooden carrying case is designed like a real restaurant with a door and menu hanging outside. It also has a carry handle so your kids have no trouble carrying all the pieces.
The Mother Garden Petit Restaurant equips your kids with everything they need for role-playing fun. They learn to imitate the actions and gestures of adults, which develops invaluable social skills your kids will use as they grow. Mother Garden makes learning fun as your kids learn math skills like division and fractions as they divide the foods among their friends and cut the rolls and vegetables into serving sizes. Kids also strengthen fine motor skills and hand-eye coordination as they handle all the food pieces. Parents benefit from knowing their kids develop critical thinking when playing with Mother Garden wooden toys like the Petit Restaurant and the Bakery Oven Playset.
【サイズ】収納ケース:約22×15×高さ18.5cm【セット内容】収納ケース、フォー ク×2、ナイフ×2、スプーン、コップ×2、メニュー、コーンスープ、皿×2、ミニトマト×2、レタス×2、きのこ、ウインナー×2、ハンバーグ、ロール パン、エビフライ×2、ミニレアチーズ、オレンジゼリー【主材質】木製【対象年齢】3歳以上
【サイズ】収納ケース:約22×15×高さ18.5cm
【セット内容】収納ケース、フォーク×2、ナイフ×2、スプーン、コップ×2、メニュー、コーンスープ、皿×2、きのこ、
ミニトマト×2、レタス×2、ウインナー×2、ハンバーグ、ロールパン、エビフライ×2、ミニレアチーズ、オレンジゼリー
【主材質】木製
【対象年齢】3歳以上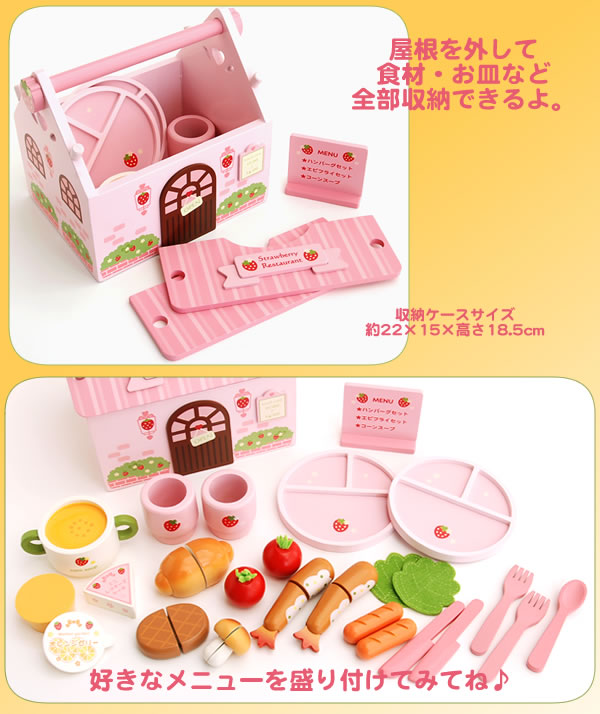 Write a review
Your Name:
Your Review:
Note: HTML is not translated!
Rating:
Bad
Good
Enter the code in the box below:
Related Products